The holiday season is upon us and that means… holiday sales! Yes, the holidays are about love, family, gatherings and spending time together, but truthfully it's also about spending money. We all anticipate holiday shopping before we even get to November (whether it delights us or overwhelms us).
The financial and audit services firm Deloitte1 predicts that e-commerce holiday sales may reach between $260 billion and $264 billion this season. Regardless of the challenges in our economy, holiday sales are rarely affected. Still, it's important to be informed of shifting consumer trends in order to build your brand marketing campaign. For example, a study from Klaviyo2 found that Millennials and Gen Z are far more likely than Boomers and Gen X to increase their holiday spending in 2022.
The holiday season isn't just an opportunity for your brand to increase sales, it's also an opportunity to establish deep connections with your audience, or at the very least, leave them with a good impression.
Here are 4 easy (but important) ways to boost your holiday campaign:
Offer a valuable discount. Consumers are already expecting holiday deals and they know brands will compete. Make sure to offer an attractive discount or promotion that makes sense in regard to the needs of your audience. Planning a series of holiday promotions can also motivate return shoppers.
Get the timing right. Timing is always important in marketing and especially during the holiday season. Planning your holiday sales campaign and having a strategy in place by mid-year is ideal. Get your promotional message to consumers ahead of the holiday season to be top of mind as they start holiday shopping early.
Transmit the holiday spirit. Optimize your site, email marketing, in-store marketing, etc. Consumers want all the holiday feels as they're shopping and you want to appeal to the emotion of the holiday season through your messaging and design. Identify the best way to connect your message with your audience and be creative in how you offer valuable information to them. For example, holiday gift guides are a great way to promote your products and share helpful tips. Also, partnering with a good cause for the holidays is a beautiful way to evoke emotion and cement a deeper connection with your audience.
Be on mobile. Whether it's an app, email marketing or social media, your mobile marketing strategy needs to be on point. Consumers are making purchases on their mobiles at an impressively growing rate. Understanding consumer behavior will give you a better understanding of how to reach your audience, effectively. Your marketing campaign should extend to social media with fresh and eye-catching content. Psst…are you even on Pinterest?! It's one of the best platforms on which to sell products.
Check out some recent holiday shopping trends identified by Google, here.
Does your brand need help in marketing, advertising or design? Reach out and let's talk. (We can also help with personal shopping.)
Sign up for our newsletter and follow us on social media to stay up to date with industry news, insight from our experts and more!
Have more time?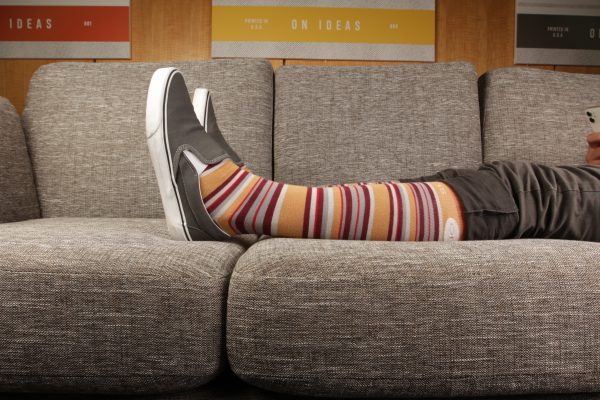 On Ideas' Philanthropy Socks